March 26, 2019
S
M
T
W
T
F
S










1

2

3

4

5

6

7

8

9

10

11

12

13

14

15

16

17

18

19

20

21

22

23

24

25

26

27

28

29

30

31
















Today is Tuesday, March 26, 2019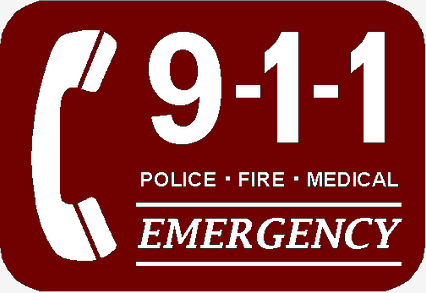 Calls To Date:


Type

2019

Avg

Diff

Total:

41

36

+14%

EMS:

23

56%

25

69%

-8%

Fire:

16

39%

7

19%

+129%

Other:

2

5%

4

11%

-50%



Total in 2018: 280 (0.77 calls/day)

So far in 2019, we've had an average of 0.71 calls per day.

As of Thursday, February 28, 2019









Station: 87 | 86 | 85

Mostly Cloudy
Partly cloudy starting this afternoon.

40°
Feels Like 37°
↑ 55° ↓ 35°

Dew Point: 37°
Wind: 4 mph

↓


Gust: 6 mph
Visibility: 10 mi
UV Index: 0

As of 4:10 AM 03/26/2019

See Full Forecast
Powered by DarkSky








Pierce 23 Fire and Rescue is a municipal agency that provides fire protection, fire prevention and emergency medical services to the 2,500 residents of the towns of Ashford, Elbe, and Alder in rural south Pierce County, at the Gateway to Mount Rainier. We have four stations, 18 apparatus, 21 active volunteers and 3 paid staff members who provide 24/7 coverage for District #23, a coverage area of approximately 67 square miles. The district has two major state highways (State Route 7 and State Route 706) and serves as a vital transportation corridor to the south west side of Mount Rainier National Park. The district also has major water resources including the Nisqually River and Alder Lake, a 7-mile long reservoir ending at Alder Dam, which provides power to thousands of homes in Pierce County.

This website is designed to be a source of information for residents, visitors, fire fighters, and neighboring fire departments.















Live Fire Training Burn in May 2013






It is our pleasure to announce that your local fire department, Pierce County Fire District 23, will be hosting a fire department open house on Saturday, August 11, 2018 from 10:00 am - 3:00 pm at Station 87 (Headquarters). The address is 29815 State Route 706 East, Ashford, WA 98304.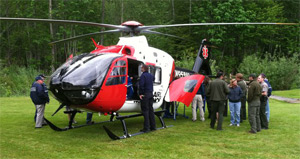 The open house will include: a free medical mobile, free blood pressure checks, educational booths, games for the kids, a landing by an Airlift Northwest helicopter (weather and operations dependent), and more. This is a fantastic opportunity for your children to learn firsthand what to do about Fire Safety and how to get out of the house in the event of a house fire.

If you're interested in being a blood donor, please contact Lt. Scott Beason to get on the schedule. We are looking for at least 20 volunteers to help with blood donations at an especially critical time of the year for Cascade Regional Blood Services.

We hope to see you there!

Tuesday, July 31, 2018 3:26:00 PM

Thanks to the commitment of the fire commissioners of both Pierce County Fire District 23 and Lewis County Fire District 17 (which PCFD#23 covers through a contract), in the last year, all four of our ambulances now have an advanced Physio-Control LifePak® 12 Monitor/Defibrillator onboard.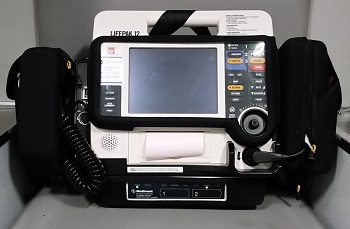 The LifePak 12 (LP12) is a medical device that combines semi-automated and manual defibrillation (similar to an AED) with waveform capnography, 12-lead electrocardiography (ECG), blood pressure monitoring and oxygen saturation monitoring. This equipment allows our EMTs to better monitor our critical patients and better determine the destination hospital that best suits the patient's condition - all of which leads to better patient outcomes. Our mutual aid agencies also use the LP12, which means that when we transfer a patient or when our mutual aid medics show up on scene when we are using this device, there is a much quicker and seamless transition for monitoring and/or defibrillating a patient. 12-lead ECGs are critical for determining what is happening on our chest pain patients, which also helps determine the best hospital destination. Our LP12 can quickly determine if our patient is having a heart attack, and if so, we can upgrade our transport (via medic and/or Airlift Northwest) to a Cardiac Care hospital for better care. The monitoring characteristics of the device are very useful in critical patients and we are able to quickly see if a patient is improving or needing additional care. Every member of our department is committed to our citizens and patients and through acquisitions of medical devices like these, we are demonstrating our commitment to our citizens. If you would like to see this device, please feel free to stop by a station when it is staffed or inquire at our next open house. Thank you!
Friday, March 23, 2018 11:25:00 AM

Pierce 23 Fire and Rescue is looking for committed volunteers who wish to serve their community as a trained first responder. Being a volunteer firefighter is an exciting job that comes with lots of satisfaction, camaraderie and experience. Volunteer personnel respond to calls for help 24 hours a day, 7 days a week, in all kinds of weather and conditions.

Roles for volunteers include emergency response personnel (Firefighters/EMT's) as well as support personnel. Men and women age 18 and older who are in good physical condition and have the desire to serve as firefighters are eligible to apply for emergency response positions. Anyone age 18 or over may apply for and serve in support positions. All applicants must pass a background check and physical exam, provided by the department upon acceptance.

Volunteers with Pierce 23 Fire & Rescue do not need any prior fire or emergency service experience. Volunteers will attend weekly drills and other training classes (such as EMT training and Firefighter academy, driver/operator, water rescue, as well as other advanced training), and will be provided with all necessary equipment by the department.

If you are interested in volunteering with PCFD#23, please click here for more information!
Monday, March 5, 2018 3:16:00 PM

Say hello to the newest apparatus in Pierce County Fire District 23's fleet!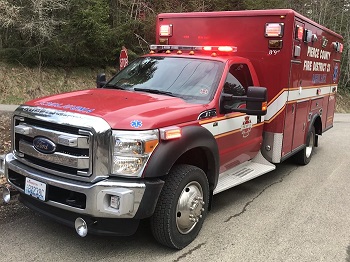 We have acquired a 2014 Ford F550 Super Duty 4x4 Ambulance to replace an older 2004 Ford F350.

The new ambulance has super bright Whelen LED emergency and scene lights and has many advanced features. The ambulance also has an air-ride suspension which means our patients will have more comfort on bumpy roads and during extended transports. The back of the ambulance actually sits down when loading and unloading the cot, which makes it easier for our responders. Additionally, the back of the ambulance has several airbags and lap and shoulder restraints.

This new ambulance was acquired in early 2018 and placed in service on March 2, 2018.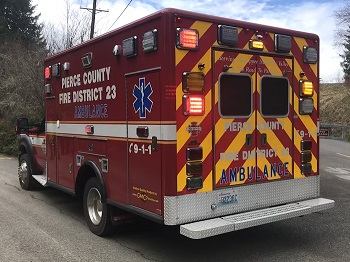 Stop by Station 87 for a look - we're proud of the newest member of our fleet!
Monday, March 5, 2018 3:09:00 PM

It is time once again to spring forward - to start Daylight Savings Time. Likewise, it's a perfect time to remember to change the batteries in your smoke alarms. Here at Pierce County Fire District 23, we're all about safety. So we encourage you to get into the habit of changing all your smoke alarm batteries either at the end or the beginning of Daylight Savings Time to keep your family safe and protect your home from fire and smoke damage. The value of having reliable smoke alarms in our home is well known. However, having smoke alarms is not enough. A good fire safety plan demands that the smoke alarms are actually working. Adopting the habit of quickly checking your smoke detectors each month will ensure that they are working properly, and changing the batteries at least once a year will ensure that their batteries are fresh and strong.
Monday, March 5, 2018 3:02:00 PM

Get alerts about emergencies and other important community news by signing up for our Pierce County Alert Program. This emergency notification service enables Pierce County to provide you with critical information quickly in a variety of situations, such as severe weather, unexpected road closures, missing persons, and evacuation of buildings or neighborhoods. Sign Up here!
Friday, December 24, 2010 9:34:00 PM